Penn State PRSSA Regional Conference kicked off with keynote speaker Adam Kmiec, the global director of digital and social media at Campbell Soup Company. Kmiec talked about the new world of digital communication. "It's not a milennial thing, or boomer thing, or an x and y thing," he said. "It's a digital revolution."
"You're the mobile first generation," Kmiec said. "But none of you talk on the phone." This provides a challenge for marketers to target us through our phones. They need to find a balance between interruption and value. Strong brands are blurring the lines between public relations, marketing, advertising and digital.
An example he provided of a strong brand that blends these mediums well is Coca-Cola. The following video combines a clever PR stunt into a digital ad.
Another challenge for marketers, Kmiec said, is that we value experiences over things. Marketers need to recognize this new consumer outlook and shift their promotion tactics to reflect this change.
"There is a shortage of amazing jobs," he said. So there are important aspects you need to look for in an organization:
It's about being wired for digital. People should come in without excuses to perform well. If an organization is set up to utilize digital to its fullest potential, you will be happier at that organization.
It's a lifestyle choice. Digital fitness is just like physical fitness. If you don't keep at it, you will be out of shape and fall behind.
It's an everyday commitment. 
Look for Nerf guns. Kmiec keeps a Nerf gun on his desk, making his workplace more fun. When you interview somewhere look for the Nerf guns. Get an idea of the environment and culture of the organization before you commit.
If you have a choice between 3 years of work experience or an MBA, Kmiec said to take the work experience. "I want someone who comes in with ideas who has done it before," he said.
"There is also a shortage of amazing talent," Kmiec said. He is looking for what he called the digital unicorn; this is a person who has and uses technology, marketing, strategy and execution. Be a marketer, who knows digital, who loves social.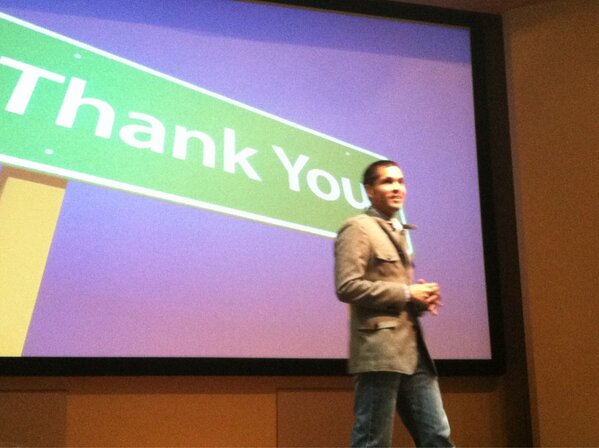 The theme of the day was "Gone Global" and Kmiec demonstrated the ways in which the digital revolution has influenced marketing on a global scale. Look out for more of the conference coming soon.